This shop has been compensated by Collective Bias, Inc. and its advertiser. All opinions are mine alone. #UltimatePitStop #CollectiveBias
The Disney•Pixar's Cars movies have grown up with my kids. We started with the first adventure of Lightning McQueen in Radiator Springs, back when my oldest was a small tyke. From there, he collected all the characters, lining them up and spouting off facts about his favorite movie almost as soon as he learned to talk.
While Jedi may now be 13 and past his stage, his brother and sister still love the movies. We also have a Disney•Pixar's Cars fan in the making due in August. Perfect timing for the new Disney•Pixar's Cars 3 to hit theaters this summer!
Along with Disney•Pixar's Cars 3 are the new fun products available. And Amazon is "the Ultimate Pit Stop" for all the movie merchandise! With Just Play, Cars 3 Mack Mobile Tool, Disney•Pixar's Cars 3 Apparel, Disney•Pixar's Cars 3 Bedding, and the Disney•Pixar Cars 3 Crazy 8 Crashers Smash & Crash Derby Playset now available!
We've been racing up a storm with the LEGO Juniors Thunder Hollow Crazy 8 Race Building Kit, also available on Amazon. This LEGO playset includes Lightning McQueen, Cruz Ramirez, Broadside, and Miss Fritter.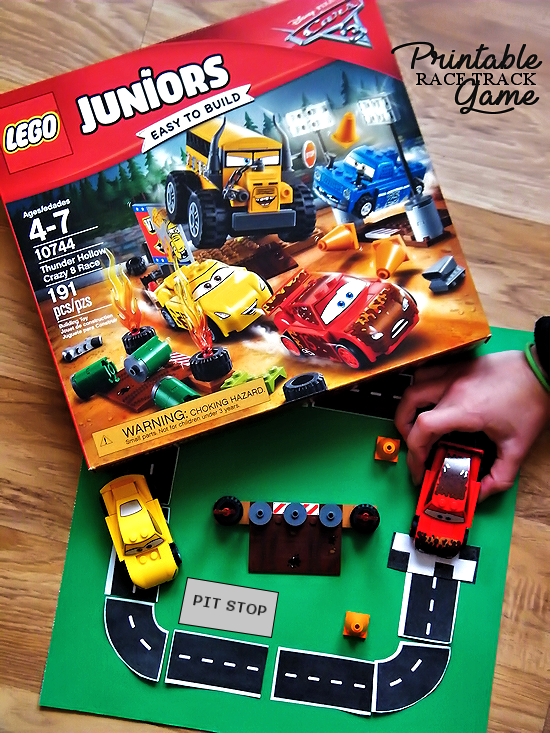 Interested in finding new Disney•Pixar's Cars 3 merchandise? Hover over the photo to click through to Amazon.com and buy them!
As well, there are buildable traffic cones, a road sign with movable barriers, 2 buildable floodlights, and other accessories from the new movie. For another way to play, however, we put together a Printable Race Track Game Set that you can download free below!
Buzz and Abby love to build and create and this is a great way to get them working together towards a goal of ultimate Disney•Pixar's Cars fun!
Constructing the characters and accessories in the LEGO Juniors Thunder Hollow Crazy 8 Race Building Kit allows them to help each other, too, as they study the easy-to-follow instructions to find out which LEGO block goes where.
The older they get, the more my kids like to do their own thing independently. Usually on their electronic gadgets. Nothing beats pure imagination and teamwork, though. As well as the sense of accomplishment in seeing their creation come to life and speed across the floor.
Lightning Mcqueen for the win! Or will Cruz Ramirez cross the finish line first? Download our Free Printable Race Track Game set and find out!
Download the Free Printable Race Track Game Set
Simply download and print the race track set, cut the pieces out, then configure your own customized track by simply taping to a large sheet of cardstock. Download a couple sets for more track style options. Make your usual circle, go crazy with a figure eight or zig zags. Don't forget the Pit Stop! A pair of dice makes it a game of who will cross the finish line first! The track is made in sections so it's easy to move with the roll of the dice.
Be sure to check out "the Ultimate Pit Stop" for Cars 3 merchandise on Amazon! Disney•Pixar's Cars 3 now in theaters! © 2017 Disney/Pixar